PACKING UP WINTER FOR GOOD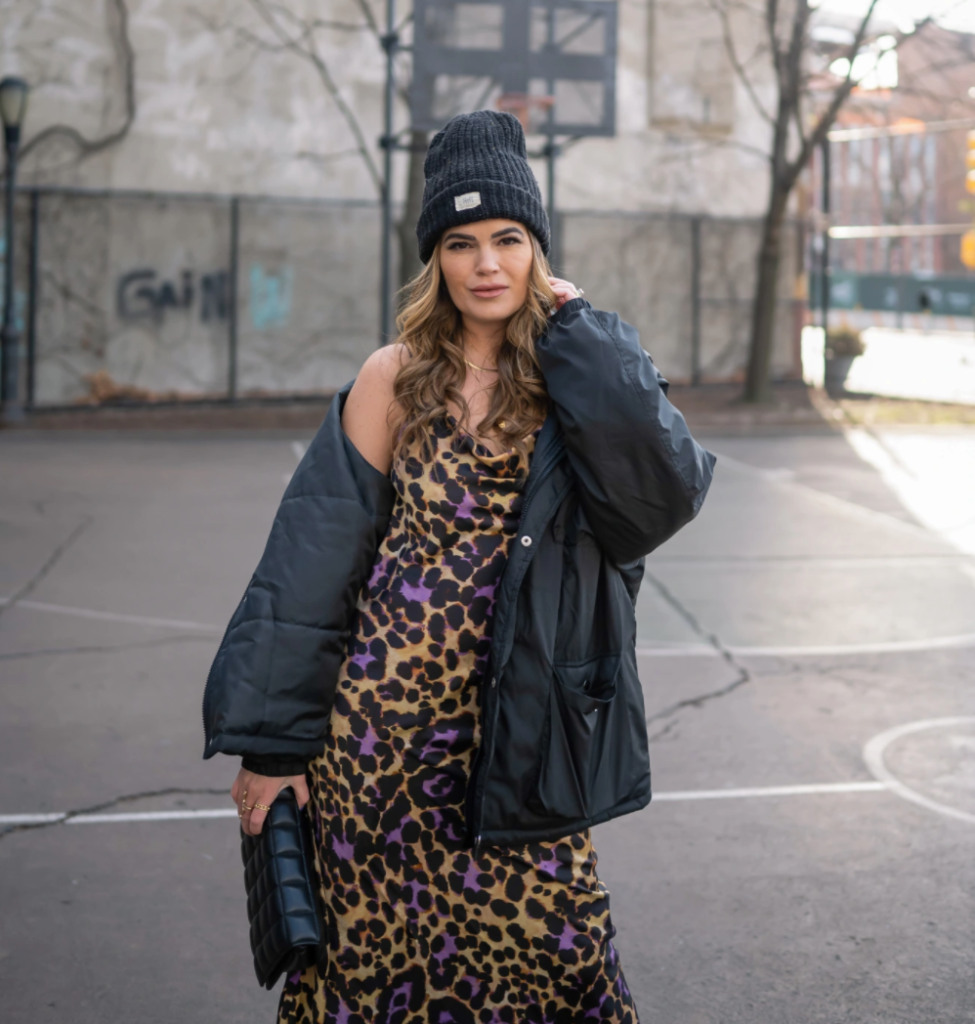 Just when I thought that winter had packed it's bags and had jetted off to make room for all the spring things, it decided to overstay it's welcome and come back around. WHYYYY?!
I so gleefully washed and hung the puffers to make room for lighter and less bulky transitional jackets and coats, only to have to bring them back out because Mother Nature and global warming decided that a few more twenty something degree days wouldn't be so bad. Mother nature, you are one bad Karen right now.
I'm done, my body is done, my mind is done, and so is my wardrobe. All the pretty pastel and bright colors are ugly crying in my closet right now because their big debut has been delayed by this farce.
i've spotted a bright side though…
There were a few winter looks I wanted to wear one more time before packing them up too, so for the next two days of bitter cold, Im going to wear them, and I'll look cute and be happy about it, darn it! There are also pieces, like this purple and gold leopard print dress, that I made winter friendly too.
I was recently able to wear it with a black turtleneck body suit underneath as well as with the black puffer you see here! Yes, beanie included bc it was that cold, and it still is that cold!
It was fun to make a slip dress winter friendly! I had purchased it in January and thought, 'I can't possibly wear this now,' but here's the thing about winter, you can extend the life of certain summer and fall looks by layering.
I could have also worn this slip dress wth a black sweater or hoodie over it with tights, a black or white tee underneath with a blazer and coat, or a faux fur jacket to keep me warm but also show some skin.
I wonder how many of you do what I do when it comes to getting wear out of certain pieces in your closet? I always like to take inventory of what I have. I don't like to have anything in my closet that I know I'll never use or barely use, so I usually pull out looks that I know I want to re-wear before the season comes to close, then I decide if I keep or donate them. This dress was one of those pieces, along with some others ones I'll be wearing today and tomorrow. I'll be posting them on social so stay tuned!
Winter, thank you for all the freezing temp outfits underneath heavy coats and fur coats, that many did get to see because you know, Instagram; but I am happy to bid you adieu adieu adieu for a long while.
It's time to make way for a lighter, fresher, and brighter season! It's time for spring to make her royal debut.
I'll see you in December. No cold, I mean, hard feelings.
In Style,
Kathy