LITTLE BO BROOKLYN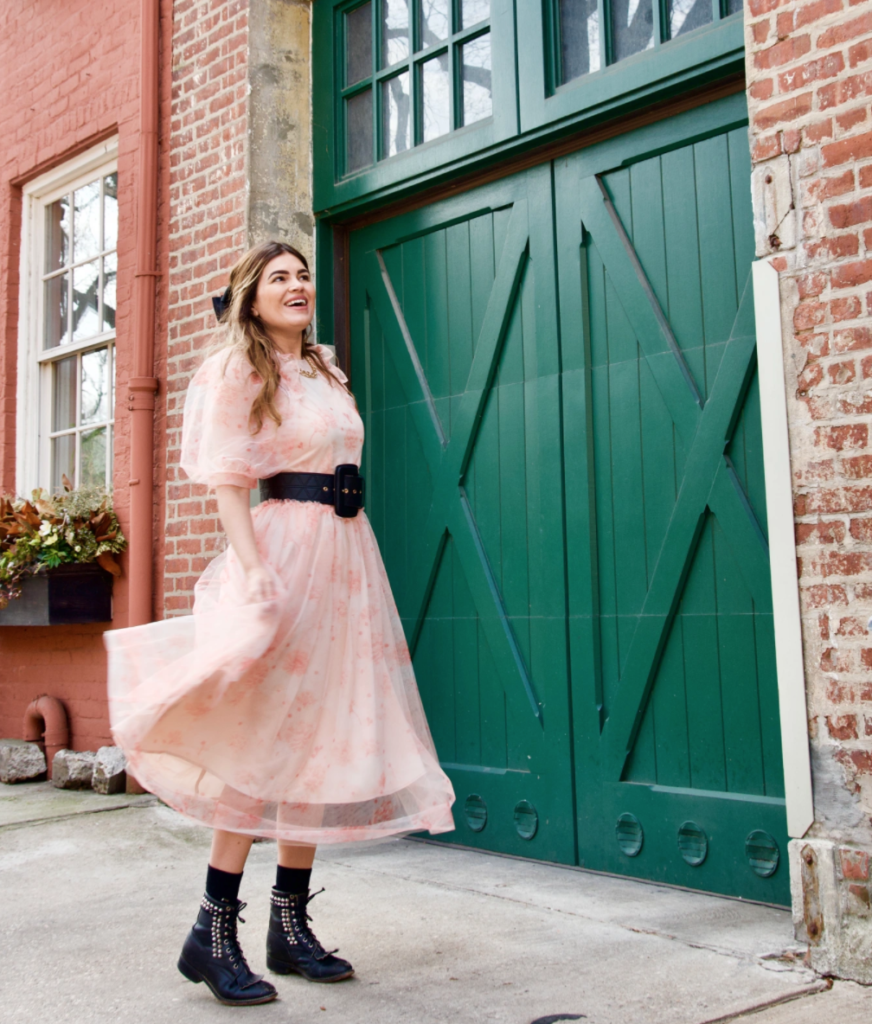 Here's one of the many beauties of Brooklyn- there are some really cute lanes or side streets that are chock full of quaintness and Old New York vibes. The more you walk around the neighborhood, be it Brooklyn Heights, Cobble Hill, or Carroll Gardens, you are sure to find one and be surprised! The dead end streets are picture perfect- Love Lane, Verandah Place, and Grace Court Alley to name a few. We actually took these photos on Verandah Place, a few blocks away from school.
The street is lined with historic 19th century homes and they face Cobble Hill Park, which is a great spot to sip your coffee/tea and people and dog watch! The mews were intended for horse drawn carriages and the row houses that are now big money real-estate gems, used to be stables or a place to stay for local workers. There is just so much history in these hidden streets- so naturally the perfect place to shoot this dress!
This whole look gives me \'little bo beep\' vibes but instead I like to call it, \'little bo brooklyn\' vibes. The combination of the girly tulle dress and the school girl hair bow gives it a rather whimsical and ultra-feminine feel. I was lucky enough to get one of the Simone Rocha x H&M dresses from the designer collab as a surprise, thanks to the amazing PR team at the store. Designer, Simone Rocha, is known for these lady like silhouettes and layers and ruffles, basically all the things I love. This was definitely one of my favorite designer collabs that H&M has down. Though the collection sold out instantly, you can still find pieces on Ebay. She favors a color palette of blush pinks, red, black, white and nudes but definitely infuses some patterns like Tartan in the collection.
I always say let your outfit reflect you and your personality. For me, that\'s adding combat boots to any dress. I\'m a sucker for a dress and boots. It\'s who I am and I love it! Even Maya loves to pair some of her dresses with boots and of course, that makes me so happy! Who would have thought that oversized bows and headbands would make their way back on the runway? Bows are \'it\' this season so don\'t be surprised to see grown a#$% women sporting them. They\'re pretty effortless and even when you are having a bad hair day, put a bow on it and call it a day! I also added an oversized belt to the dress, which helps in accentuating my waistline and the silhouette itself. I saw this is the perfect dress for some sightseeing in Brooklyn!
Why not? Wasn\'t this the appropriate attire for a promenade in the 1900s?!
In Style,
Kathy